Posted on
There's Only One Way to Design the Technology of Tomorrow…Together
Thousands of team members from around the world all have a hand in designing innovative semiconductor technology that moves, stores, processes and secures the world's data. What keeps this ever-evolving global organization grounded and in sync? It's our people and how they uphold our core behaviors: act with integrity and treat everyone with respect; execute with thoroughness and rigor; innovate to solve customer needs; and help others achieve their objectives. These behaviors shape our belief that how we do things is just as important as what we do, and they guide all of our interactions – both with each other and with our partners and customers. To illustrate how these behaviors come to life, let's hear from Marvell employees directly.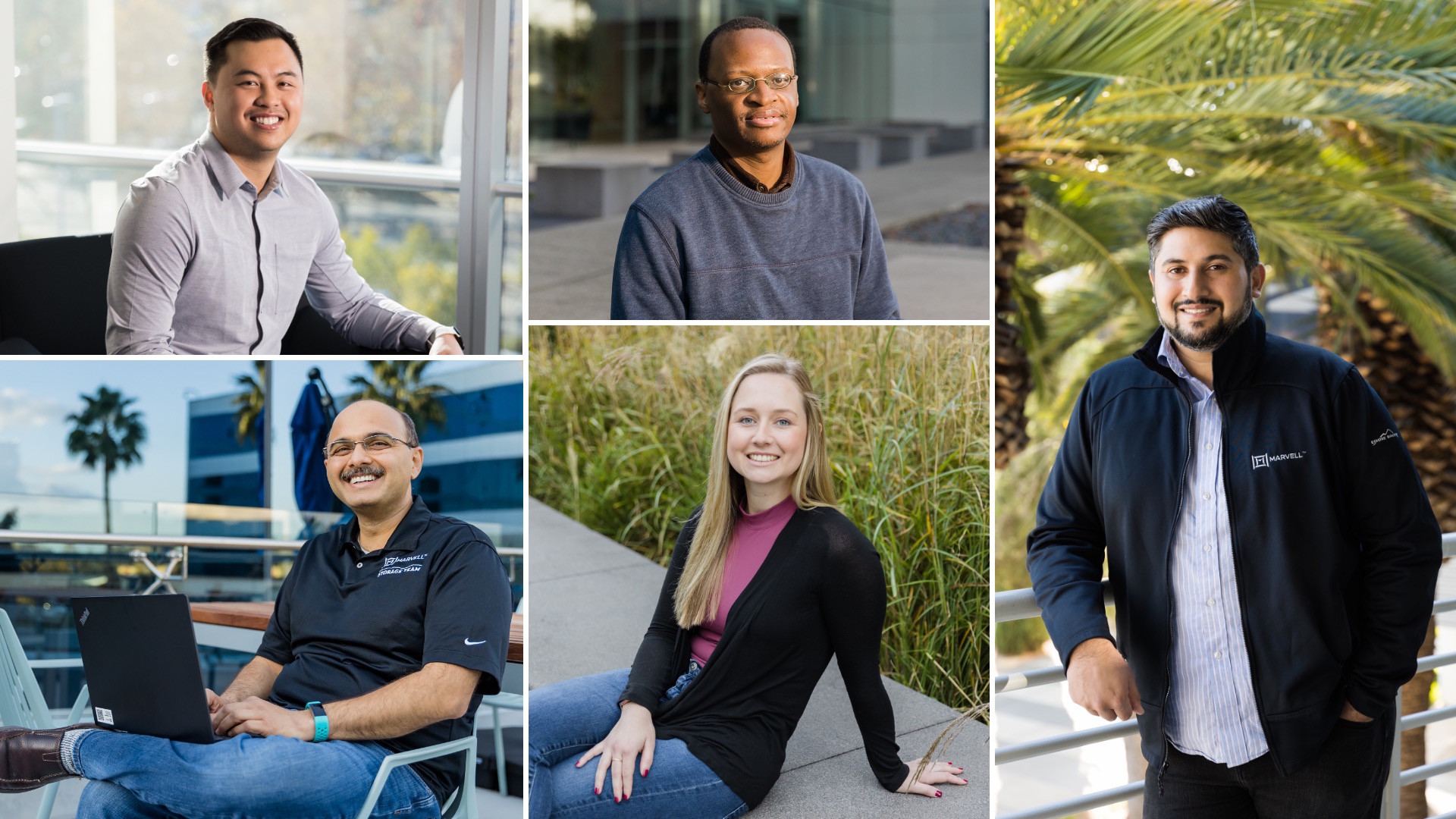 Act with integrity and treat everyone with respect
Director of Product Management, Kishore Atreya, has worked at Marvell for over 10 years. Since Kishore's journey began at the company, he credits the executive team with fostering a healthy culture. "This is a company with a lot of integrity, starting from the leadership all the way to our executive team."
Team members not only have visibility into what decisions are being made, they have understanding as to the why behind those decisions.
Marvell's focus on treating people with respect extends to all levels of the organization, embracing diverse viewpoints. For Marketing Coordinator Lindsay Moore, this means feeling empowered to express her thoughts and ideas. "There has never been a day here that I've thought my opinion doesn't matter, no matter who I'm talking to, no matter what department they're in, no matter what the topic," she said. "I always feel like I'm valued because I bring something different to the table."
Execute with thoroughness and rigor
Robin Maleche describes Marvell's culture as cross-functional and innovative. As a Sr. Staff Engineer, some of his proudest moments are when he's contributed to projects that have expanded the use of a technology, so the next generation of products are faster and more efficient.

"The value that I most relate to at Marvell is to execute with thoroughness and rigor," Robin said. "Ensuring thoroughness in the execution of my projects so that they are good enough to stand up to any other project is important, not only within the company but also for customers who see us as best in the class throughout the world."

Sameer Vaidya, Director for HTD validation, believes in Marvell's ability to carry out their set goals. "We can plan all we want, but if we can't execute, we can't be successful," he said. "Being able to execute with that thoroughness and rigor is the key component that makes or breaks a company."
Helping others achieve their objectives
"There are so many people involved, and so many things that need to be done right in implementing a very complex end-to-end feature from beginning to the end," said Nitzan Dror, Senior Principal Engineer based in Israel. "It cannot work unless people cooperate and help each other. That's something I see every day when I see our product's success in the market."

Anthony Tran, an Applications Engineer, appreciates how his team members embrace their hybrid work environment and, through effective communication via social channels, successfully bring their team together to achieve their goals and objectives. "We all collaborate and work together so that we can get tasks done," he said. "Even when teams work across multiple geographies and can't physically be together in person, we are able to communicate effectively and talk to each other about getting tasks done."

"One thing I really appreciate is everyone tries to help each other. Whether it's working with another team, another geography, or another business unit, we work and celebrate together," said Madhura Pangu, Senior Manager based in India.
Innovate to solve customer needs
U.S.-based Senior Staff Manager, Quandra Hamilton, leads a team of 10 who work directly with customers on chip design and development. "We had a customer who was new to chip development," she said. "Our team not only defined what we would do for the customer, but also educated them about the design process."

Quandra's team placed a priority on not only delivering a solution to meet customer needs but went the extra mile to ensure the customer understood the details of the approach. "It's daunting because you're thinking, 'How are we going to do this? How are we going to rise to the challenge?''' shared Quandra. Quandra and her team are up to the task of ensuring Marvell's technology will meet (or exceed!) customer needs. "Even though my background is in design verification, I still need to know all the different aspects of the chip development process," she said. "It challenges me in that way, but it's a good challenge."

At Marvell, we have a wide portfolio of data infrastructure products including storage, electro-optics, processors, networking, automotive Ethernet and security. Our technology is cutting edge, but it's our culture, our people and our core values that are priceless.